USA Blinds offers a wide selection of window blinds and shades. Whether you are looking to design window coverings for your new home or just replace and remodel your existing home, USA Blinds is an economical alternative. We offer top quality products at fractions of the cost you will find from your local installers or hardware stores. All blinds and shades are custom made to your specifications. You simply measure your windows and install yourself to save.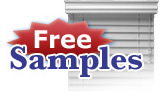 Honeycomb/Cellular Shades
Fast becoming a popular window fashion, Honeycomb shades are making their way into many homes. Sometimes referred to as Cellular shades, USA Blinds Honeycomb shades are available in dozens of colors and styles and will compliment almost any décor. Available in light filtering fabrics to softly let a gentle touch of light into your home or room darkening to block nearly 100% of all light. Popular for entire homes or for large patio and sliding glass doors. With many options to choose from including top up/bottom down, continuous cord loop and child safety cordless, there's a solution for everyone.
Wood Blinds
Made from the highest quality North American hardwoods and basswoods, USA Blinds wood blinds are available in a wide variety of stains and painted colors. Available in 1", 2" and 2.5" slat sizes, you're sure to create the look and feel you desire. Made in the USA with Free shipping, lifetime warranty and satisfaction guarantee. America's most popular blind!
Faux Wood Blinds
Faux Wood Blinds are undoubtedly our best selling products. They provide the look of real wood blinds without the added expense. USA Blinds Faux wood blinds are available in PVC or composite material and can be used in areas ranging from high humidity to extreme cold. They're stain and warp resistant, virtually indestructible and are available in a variety of colors that emulate real wood. If you desire to add the look of real wood blinds to your home without the added cost, try USA Blinds faux wood blinds.
Mini Blinds
Aluminum Blinds are a popular choice due their wide range of colors. Made from premium 6 gauge aluminum, USA Blinds aluminum blinds provide a durable, cost effective look for almost any décor and are presented in ½", 1" and 2" slat sizes. USA Blinds mini blinds are the most cost effective solution for decorating your windows.